The recast peal of bells arrived at the end of October and was put on display in the church for two weeks. Transport of the old bells to London, and the return of the new ones was donated by Montgomery Transport of Glengormley. They were Hallowed at Evensong on Remembrance Day, Sunday November 8th, in a ceremony conducted by the Rector, Rev. Canon F.J. Rusk. The bellhanger, Mr T.N.J. Bailey, arrived from Whitechapel the following day and the work of re-installing the ring in the tower began, to be completed just over three weeks later.
The official try-out of the new ring took place on Wednesday, December 1st with the following ringers present: the Misses J. Letters, T. Letters, C. Watt, E. Hudson, Mesdames C. Hudson, L. Watt, and Messrs S. Letters. A. Todd, C. Watt, A. Hudson, G. Hudson, D. Nelson, J. O'Hara. T.N.J. Bailey represented the Whitechapel Bell Foundry, and the following guests were present from Drumbo: Mrs. M. Lindsay, Messrs J. Lindsay, C. Lindsay, R. Lindsay, P.Kimber and D. Mclean. First the back eight bells were tried, then the ring of ten, and finally the the ring of twelve.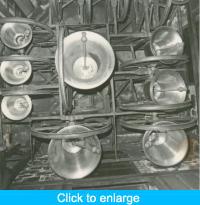 Ringing continued on the twelve for about an hour, and included the first method ringing on the bells, a plain course of Grandsire Cinques. The new bells were rung for service for the first time for the Midnight Communion Service on Christmas Eve, when all twelve bells were rung in rounds and call changes. The bells were rung again for the 10.00am service on Sunday, and on New Years Eve the old year was rung out with half-muffled call changes on twelve, and the new year welcomed with the bells open.